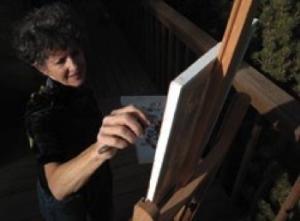 Susan Becker paints outside on her deck, applying colorful oils with a palette knife on a portrait of a standard white poodle from Texas named Bentley. Becker, who has lived on Lookout Mountain for over 20 years, began her art studies in 2003, after retiring from 25 years as Director of the Boettcher Mansion Historic Event Site on Lookout Mountain, Golden, Colorado

"My sense of time, age and gender seem to disappear when I am at my easel," Becker said.

Becker has painted cats, dogs, horses, newborn goats, pigs and a parrot for pet owners, some of whom want to celebrate their animal friends, and others who want to memorialize them.

"I put the eyes in first, and when they begin to sparkle, I just fall in love," Becker said.

The eyes are often the sharpest part of Becker's images. Sometimes color palettes are picked by the animal's personality: warm yellows, red and oranges when the pet seems quite vivacious and cooler colors when the pet is...